"אין כל ספק כי בספרות העולם זכאי הברון מינכהויזן לכתרו של מלך הגזמנים: מסעי הפלאות שלו בים וביבשה, הקרבות בהם נטל חלק, העלילות המשעשעות שלו בכל חלקי העולם, אין להם אח ודוגמה, צרות צרורות באו על הברון אך הוא תמיד ידע להיחלץ מהן בזכות חכמתו הרבה ..." -- מן הכריכה האחורית.
Title

עלילות הברון מינכהויזן / גוטפריד אבגוסט בירגר




תרגם ישראל זמורה




צייר גוסטב דורה.



Additional Titles

Singular Travels, Campaigns, Voyages, and Sporting Adventures of Baron Munnikhouson, commonly pronounced Munchausen. Hebrew



Related place

Tel Aviv-Yafo (Israel)-place of publication




Jerusalem (Israel)-place of publication



Co-Author
Bürger, Gottfried August, 1747-1794.
זמורה, ישראל, 1899-1983 (מתרגם)
דורה, גוסטב, 1832-1883 (מאייר)

Publisher

תל אביב : הוצאת מחברות לספרות




ירושלים : הוצאת א. לוי-אפשטין



Creation Date

תשל"ד 1974



Genre
German wit and humor

Notes

מנוקד.




על הכריכה: זמורה, ביתן, מודן - הוצאה לאור.




עלילות הברון מינכהויזן נכתבו לרשאונה באנגלית על ידי רודולף אריך ראספה. לאחר מספר מהדורות תירגם גוטפריד אבגוסט בירגר את הסיפורים לגרמנית. תרגום זה הפך להיות יותר ידוע מהיצירה המקורית. ספר זה הינו תירגום של התרגום הגרמני.



Format

189 עמודים, 1 עמוד לא ממוספר : איורים




22 ס"מ.



Language

Hebrew



System Number

990039282110205171



Links
תמונה קדמית
תמונה אחורית

תנאי השימוש:
Terms of Use
The item is subject to copyright and/or contractual terms of use. 
You may use this item for non-commercial teaching and research purposes only, provided that due credit is given to the creator(s) and/or to the owner of the collection, as applicable.
It is forbidden to harm the author's honor or reputation by means of altering the item or damaging the integrity of the item.
In addition to specifying the name(s) of the creator(s) when making use of their work, please acknowledge the source of the material as follows: 
From the collection of the National Library of Israel, courtesy of: ______*.
*The name of the collection owner that is indicated in the Library catalog
Any use that does not comply with the above conditions is subject to consent from the owner of copyright in the item and/or the owner of the collection from which the item originated, as applicable.
For any additional copyright information please contact NLI's copyright inquiry service here.
If you believe that there is an error in the information above, or in case of any concern of copyright infringement in connection with this item, please contact us by e-mail: copyright@nli.org.il​​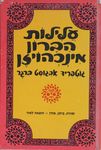 Have more information? Found a mistake?