"The manuscript S1 is one of the chief witnesses to the Sanskrit Yasna, containing the Avestan text of the Zoroastrian Yasna liturgy to chapter 46.19, together with a Sanskrit translation and commentary. This book contains the complete, full-colour set of facsimile images of S1. An introduction by Leon Goldman provides an overview of the Zoroastrian Sanskrit tradition together with a discussion of the S1 manuscript covering its physical appearance, its age and history, and for the first time, a detailed palaeographic analysis of the Avestan and Sanskrit text"--back cover.
Title

The Sanskrit Yasna manuscript S1 / by Leon Goldman.



Additional Titles

Avesta. Yasna 1.



Edition

Facsimile edition.



Co-Author
Goldman, Leon, 1981- (editor writer of introduction writer of supplementary textual content)

Publisher

Leiden




Boston : Brill



Creation Date

2018



Notes

Includes bibliographical references (pages 367-371).



Series

Handbook of Oriental Studies. Section 2, South Asia, 0169-9377




volume 32




Corpus Avesticum series




volume 32/1



Format

x, 371 pages : illustrations, color facsimiles




25 cm.



Language

English



Copyright Date

©2018



Identifier

ISBN9789004357693




ISBN9004357696



System Number

990043889270205171



Links
תמונה קדמית

תנאי השימוש:
Terms of Use
The item is subject to copyright and/or contractual terms of use. 
You may use this item for non-commercial teaching and research purposes only, provided that due credit is given to the creator(s) and/or to the owner of the collection, as applicable.
It is forbidden to harm the author's honor or reputation by means of altering the item or damaging the integrity of the item.
In addition to specifying the name(s) of the creator(s) when making use of their work, please acknowledge the source of the material as follows: 
From the collection of the National Library of Israel, courtesy of: ______*.
*The name of the collection owner that is indicated in the Library catalog
Any use that does not comply with the above conditions is subject to consent from the owner of copyright in the item and/or the owner of the collection from which the item originated, as applicable.
For any additional copyright information please contact NLI's copyright inquiry service here.
If you believe that there is an error in the information above, or in case of any concern of copyright infringement in connection with this item, please contact us by e-mail: copyright@nli.org.il​​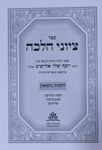 Have more information? Found a mistake?